Whats New with My Site?

Most of the site has now been updated with new pictures in the Chips Supporters section, new stories and lots of new content. The campaign is growing and so is the site. Please send all your pictures and stories to

chipscampaign@hotmail.com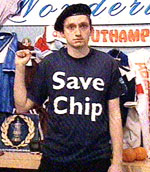 Updates on Chips Plight!!

Its looking bad. A small party of evil people have joined forces and have started a Save Sarah, Don't let Chip win campaign. St Jamess Park being the most shocking where stewards have been asking Chip Supporters to remove Save Chip banners!!! This must be stopped, and yes we will overcome these evil people.